Browse Exhibits (2 total)
Mandatory school desegregation in Boston precipitated a wave of activism, advocacy, and debate by religious institutions and their constituents. Whether outraged or delighted by the implications of busing in public schools, individuals often understood and expressed their positions through the lens of their faith. Some believed desegregation to be an issue of justice, and thus in keeping with Biblical teachings. Others considered the "forced busing" of white children to be evil and abusive, invoking faith-based opposition to what they considered an anti-Christian social movement. Regardless of their support or disapproval of busing, people employed a multiplicity of religious interpretations to support their stance.
People from within and beyond Boston addressed these various religious perspectives in their writings to local officials. Often, they wrote to express their views on the morality of busing. In other cases, church officials wrote to invite city or state leaders to events or political rallies relevant to their cause. Collectively, religious sentiments in public records speak to the existence of an active and passionate response to school desegregation by Christians throughout the Boston area and the greater United States.
This exhibit examines the ways in which Catholics and Protestants approached the issue of mandatory busing vis-à-vis the role of government. The three pages collectively showcase documents sent to and from Judge W. Arthur Garrity, Mayor Kevin White, and Councilwoman Louise Day Hicks that in some way address the role of church or religion during the crisis. Prayers for Justice and Peace contains letters, invitations, and cards sent to Judge Garrity in response to his decision to desegregate Boston's schools in Morgan v. Hennigan. "God Is Giving You a Chance" catalogs letters of religious support for desegregation sent to Louise Day Hicks and Mayor White. Finally, "Joan of Arc of Boston" shares correspondence of Louise Day Hicks regard-ing faith, church, and her anti-busing coalition, R.O.A.R. 
Selected materials represent a large geographic range of correspondence; some were sent from Boston, while others originated as far away as San Francisco (see the Geographic Distribution Map for a spatial visualization). The collection is limited to the years 1973-1975, which saw the height of responses to busing. Names and other identifying information have been redacted from all documents to protect the privacy of their authors or recipients.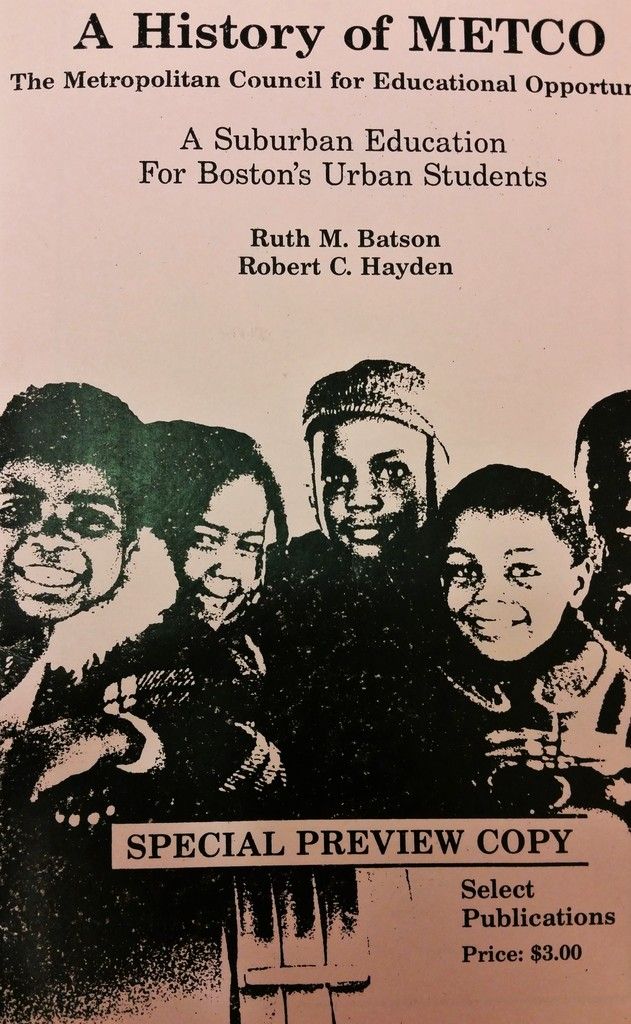 The birth of METCO was an important chapter in the battle over school desegregation in Boston. In 1963 and 1964, Black parents boycotted Boston schools for failing to integrate.  After the Massachusetts Racial Imbalance Act passed (1965), a group of African-American parents took action again to end the educational inequality in Boston.  Laying the foundation for METCO, the mid-1960s program called "Operation Exodus" began with parents organizing to transport their children from overcrowded schools to better resourced city schools.  
METCO is a grassroots program that began officially in 1966 with funding from the Carnegie Foundation and enabled African American children to attend suburban schools in Arlington, Braintree, Brookline, Lexington, Lincoln, Newton and Wellesley.  it did not take long for the program to grow in popularity as the state began to provide grants to participating suburban districts.
METCO is the story of interracial coalition building and peaceful voluntary desegregation that has been largely overshadowed by the violent busing struggle of the 1970s.  METCO has been a vehicle for meeting the goals of Massachusetts Racial Imbalance Act, which promotes racial and ethnic diversity in public schools.
 The goal of this exhibit is to illustrate how METCO and its administrators worked to reach out to organizations making the transition easier for black students and how organizations were reacting to the role that METCO ultimately played in desegregation.
The exhibit highlights that while METCO was focused on monitoring and resolving racial imbalance issues in school placement, there were also problems that needed to be dealt with internally. Documents included in the exhibit range from letters of petition from different organizations to Boston officials that were monitored and sometimes filtered through METCO. Letters from executives in METCO to officials in the Boston School system imploring them to aid in making school desegregation an easier process for students and organizations helping in communities.  Some of these letters will show not only the frustrations of grassroots organizations and major organizations like the NAACP branch of Boston, but also the problems faced by METCO in regards to representation of their work with desegregation and student placement.